GRADING AND GRADUATION
Saturday 2nd of December 2023 
Event location: Life Joondalup 8, 21 Joondalup Drive Edgewater
See below for session times 
Congratulations!
You've committed to your goal, investing countless hours in training, enduring buckets of sweat, and enduring all the bruises. Now, it's time to take the next step.
Graduation - It is a presentation of your skills and a celebration of your training to date. You have already had your skills assessed in class and demonstrated that you are ready to be promoted.
Grading - It is an assessment of your fitness, technical skills, and ability to perform under pressure. Students who successfully complete their grading are promoted to their next level.
How do I know if I should attend?
You will receive an invitation to attend from your class instructor, informing you that you are ready to attend either a grading or graduation. FMA students will also receive a red tip on their belt, signaling that you have been given approval to attend.
COMPLETE YOUR REGISTRATION
You will need to visit reception or call us on 9247 4800 and complete your grading payment. Our customer service team will complete the registration process.
All registrations need to be finalised the Wednesday prior to the event. 
GET YOUR UNIFORM READY
You are required to wear your martial arts uniform. This your opportunity to present the skills that you have learnt to date and be proud of the achievement of moving to your next level. Make sure your uniform is clean and you are well presented. 
PACK YOUR TRAINING BAG
Be prepared with all you need to succeed on the day.
White & Yellow Belts - Just need to bring a drink bottle. 
Orange, Blue, Green, Brown, Black Belts and Muay Thai -Remember to bring your drink bottle, boxing gloves, shin pads, mouth guard, groin guard.
If you do not have the required safety equipment you will not be able to participate.  
Black Belts 
Ensure that you bring any weapons involved in your grading. 
INVITE YOUR FAMILY AND FRIENDS TO CELEBRATE WITH YOU
Obtaining your next level is a huge achievement that has taken dedication, perseverance and something that should be celebrated. We encourage all students to invite their friends and family to share this special occasion.
EVENT TIMES 
Please note that the rank levels in bold refer to your current rank.
JR FMA - White and Yellow Belts
Registration - 7:45 am
Graduation - 8:00 am to 9:00am
JR FMA - Orange and Blue Belts
SR FMA - White, Yellow, Orange and Blue Belts 
Registration - 8:45 am 
Graduation -  9:00 am to 10:00am
Muay Thai (all ages)
SR FMA - Green, Brown and Black Belts 
Registration - 9:45 am  
Grading - 10:00 am - 11:30 am 
JR FMA - Green, Brown and Black Belts
Registration - 11:00 am 
Brown and Black Grading - 11:30 am to 1:00 pm 
GRADING AND GRADUATION FEES
White to Yellow -  $30
Yellow to Orange - $40
Orange to Blue - $60
Blue to Green - $100
Green to Brown and above - $300
Registration and payment of grading and graduation fees need to be completed the Wednesday prior to the event. If you require a payment plan please email [email protected] and our customer service team will be happy to work with you.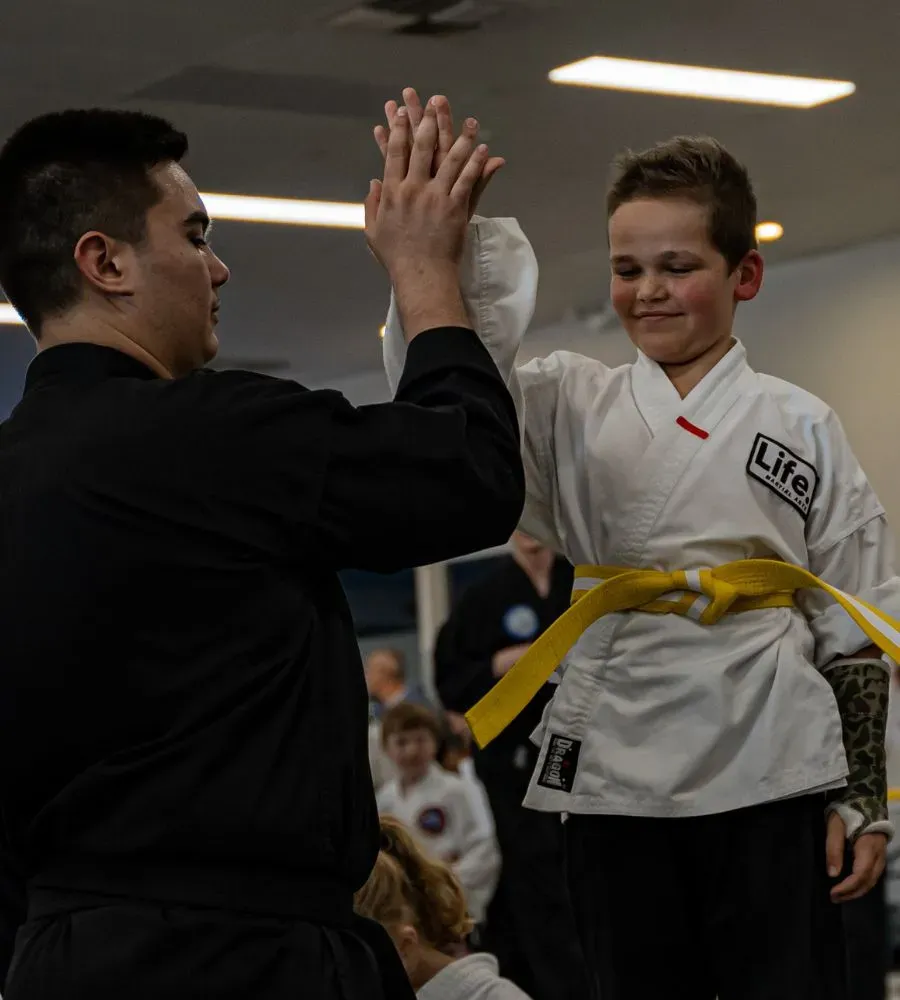 What if I can't attend?
Graduation - All efforts should be made to attend your graduation, this is an important part of your martial arts journey. If you are unable to attend you must still register at reception, this is to ensure that we have your new belt available. When registering let the reception team know you will be unable to attend and we will organise an in class belt promotion the week following the graduation ceremony. 
Gradings - As gradings are an assessment of skills we require students to attend on the day.